GEOMAGIC DESIGN X
Most comprehensive reverse-engineering software, combining CAD with 3D scan data.

Your Fastest Path from Scan to CAD

DESIGN X main advantages for your company:
Fast and accurate: unlock new ways to accelerate product development for faster time to market, better fit, and longer product life cycles.
Powerful and flexible. work seamlessly with any CAD software and create the right model for every project (solids, surfaces, and meshes).
Proven and reliable: only software that combines scan processing and CAD plus real-time feedback, supports all major scanners seamlessly. and works like your CAD software.
3D models: Handles large scan data sets (millions of points) faster than any other reverse-engineering software.
CAD Connection: connects directly to your existing CAD environment and creates native files that accurately represent a scanned object.
design history: transfers 3D parametric models with full design history directly to popular CAD software.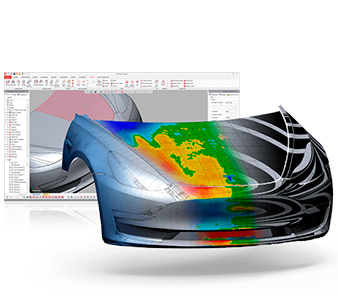 3-10x faster time to CAD
It does what no other software can with its combination of automatic, guided solid model extraction; incredibly accurate, exact surface fitting to organic 3D scans; mesh editing; and point-cloud processing.





---
Certified Partner

Why with Goaltech
At Goaltech our team of technicians is certified by 3D Systems as an expert in the management of the GEOMAGIC DESIGN X tool and can offer high value services.

Get Started Now With GEOMAGIC DESIGN X
Acquire your DESIGN X License now with Goaltech, # 1 3D Systems Suppliers in Mexico