Product: Solid Edge
Industry: Academic
Wisdom James Murombo has a passion for engineering and has been exploring the use of new techniques to optimize his designs for strength and weight. Wisdom is in his third year of study of Industrial and Manufacturing Engineering at the National University of Science and Technology (NUST) in Bulawayo, Zimbabwe.
Optimizing designs using generative design
For design projects that are assigned to NUST students, Wisdom was motivated to think beyond conventional solutions and is exploring the use of generative design techniques in Solid Edge. "I've always been interested in engineering and design," Wisdom says. "My father runs a workshop for diesel engine maintenance and I have learned many practical engineering techniques by helping him in his workshop. But I always wondered if the design of the engine components I worked on can be improved."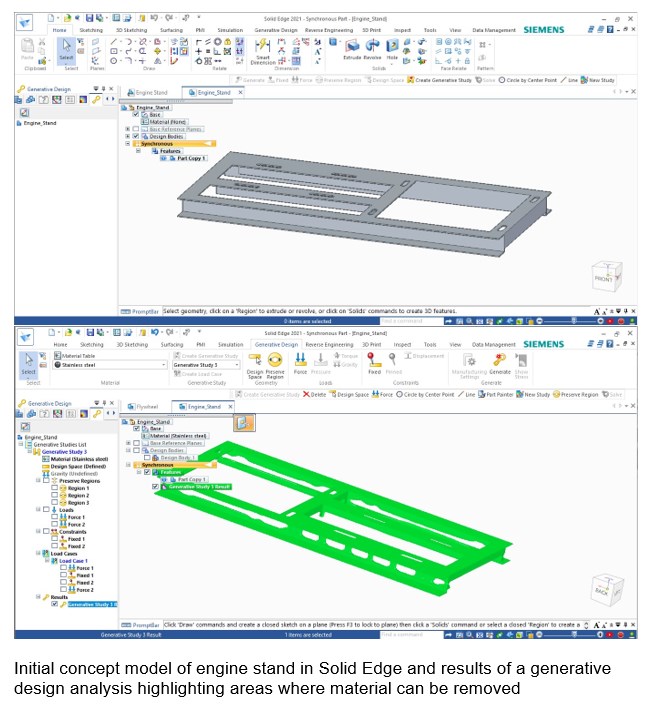 Wisdom continues: "I'm using Solid Edge with its generative design capabilities to investigate whether I can make components as light and efficient as possible while maintaining the required strength." One of his recent projects was to design an engine mount to use in his father's workshop: "I came up with an initial conceptual design and added the loads that the support will need to support. The generative design capability in Solid Edge shows me where the material can be reduced without compromising the strength of the stand."
Design a system to help COVID19 diagnosis
Wisdom does not limit his talent to mechanical design projects. He also has skills in writing software and artificial intelligence. He recently joined forces with another student to design a system that processes x-ray images to support rapid diagnosis of COVID19 patients. Wisdom says: "Using AI techniques, the system has the potential to partially automate the initial diagnosis of patients. This can help our healthcare professionals work more efficiently with an increasing number of patients." This project took second place in the 9th ICAT Tech-a-thon of the International Network of Appropriate Technology (INAT).
Future plans
When he graduates, Wisdom plans to apply his design and automation skills to work for a company in the areas of manufacturing, mining or automotive in Zimbabwe or abroad. Another possibility is for Wisdom to start its own business and be in addition to the Solid Edge for Startups program. We want Wisdom success in the future and hope you will continue to explore next-generation design technologies on Solid Edge.