Product: HandySCAN 3D
Industry: Machinery and Industrial Equipment
The EADS (European Aeronautics, Defense and Space Company) is an international leader in the aerospace, defense and related services sectors. The company has been using Creaform's portable 3D measurement products for several years.
More specifically, EADS uses HandySCAN as the MetraSCAN optical CMM scanner to digitize tools and composite parts (carbon/epoxy resin) and to develop comparisons between parts and CAD files. To perform probes, EADS uses the HandyPROBE optical CMM scanner. In addition to VXelements, creaform system data acquisition software, EADS also uses the VXtrack module to perform dynamic measurements, as well as VXlocate, a software module developed through a partnership between Creaform and EADS.
HandySCAN 3D Application Example
As part of a study on the possible geometric distortion of carbon fiber composite parts, and with the help of a HandySCAN 3D device, EADS scanned 1,000 mm x 800 mm tools, as well as 650 x 300 mm parts, in order to evaluate possible deformations after manufacture.
Tool Parts
First, EADS scanned the tools to verify that they met the CAD plan.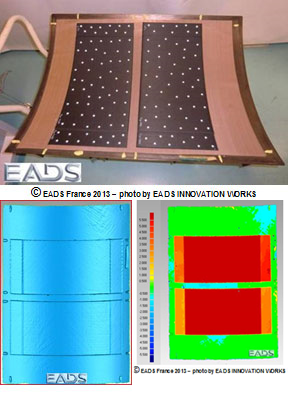 Escaneado de herramientas con el HandySCAN 3D
Two of the parts made with this tool were then scanned and the results compared.
Scanning Parts and Results
The second step was to use very powerful simulation tools to calculate the distortion of the parts before they were manufactured, with the aim of comparing the files of the scanned parts.
Simulation
The results obtained by EADS allowed to validate the simulation software, developed to optimize the manufacturing range by identifying appropriate parameters and processes.
This project could have been carried out with a peripheral projection scanning system, but the system of these characteristics that EADS possesses cannot be used on such wide surfaces, and the process is much more complex when the two sides of the composite parts are to be measured. In addition, a CCM scanner could have been used, but this option had several drawbacks, as unique measurements had to be made which, in turn, lead to a much longer acquisition time.
"The Creaform system allowed us to quickly scan metal tools and carbon fiber composite parts. Many of the systems available on the market do not work very well with these composite parts, since they are dark in color and sometimes quite bright. The fact that the equipment was portable allowed us to perform measurements at the same manufacturing plant," explained Catherine Bosquet of EADS' Healthcare Engineering Department (NDT &shm).
"Before using Creaform systems we used peripheral projection equipment, as we acquired a HOLO3 system more than 15 years ago. We also tested some of the available systems (Konica Minolta, Metris, Steinbichler, Aicon, Kreon Technologies, Ettemeyer, GOM), but Creaform's 3D measurement solutions convinced us thanks to their rapid acquisition and configuration, ease of use, performance in measuring many types of surface states and portability. He is in charge of the management, strategic direction and development of the entire Creaform Group, as well as its offices around the world."